I wish I could have come up with a better 1950s video for this week, but they were all so long! The best I could do was this four minute video about making a really gross tuna fish sandwich. I really wanted to post one about how to spot a communist, because it was hilarious, but I figured gross sandwiches would be better.
I'm going to be brief with the history lesson this week because I honestly just don't feel like getting too detailed. Basically, the major conflicts of the 1950s were the Korean War and the Vietnam War. And, of course, over all that was the Cold War, which started before the 50s and ended after the 50s. There was the Red Scare and McCarthyism and evil communists. There was also Elvis Presley and Andy Warhol and the space race. And White Christmas, which is basically my favorite Christmas movie.
YESSSSS!!!!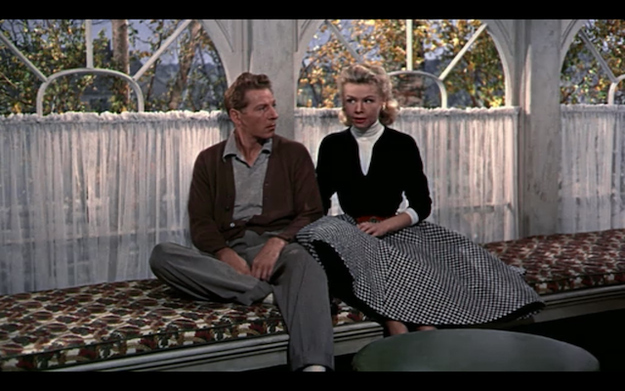 I die over Vera Ellen's plaid skirt every time!
Skirts and dresses became much fuller than in the previous decade, and they were usually paired with a petticoat or crinoline to really make it poofy. Women also wore pencil skirts and more form fitting dresses as well. It was now far more common to see women and girls, but especially teenagers, wearing pants and shorts. Saddle shoes were in, as well as what we would call "ballet flats." Hair seemed to be much shorter and closer to the head than in the 40s, with a more bouffant-like style coming in as the 60s approached. Teenagers often wore ponytails with ribbon. Lipstick was popular, but it was worn in many more colors than just red.
These girls know what's up.
PLAID!!!!!
I want the swimsuits!
What is with the weird poses they did?
When I was picking out my outfit for this post I realized that my petticoat just didn't have as much poof as I wanted it to. It's a home-made petticoat, with yards and yards of stiff netting, which was still much cheaper to make than to buy already made (even on Ebay!). My mom made it and I've had it for a couple years now. Thankfully I still had some netting left over from the project so I added some gathered panels underneath the poofy layer. When I first put it on I was disturbed by how large it was, and it made my anxiety level skyrocket.
Needless to say, I was nervous when church time rolled around, because giant petticoats kind of draw attention. Thankfully, the only attention I got was good! I got compliments all around, but I was especially happy that an old family friend (the one who painted the awesome mural in my room) got a very heartwarming boost: my getup reminded her of days gone by.
The dress I've had for a few years, a great investment I got from Goodwill. It even has pockets! It was originally an extra large and the elastic was a bit stretched out so a few months ago I did a refashion, taking the sides in and adding new elastic. I also shortened the bodice, because I'm short-waisted, and there was a lot of fabric blousing over that I didn't like.
Ugh, the purse is backwards and I'm holding it weird.
My shoes were a recent find, and from Payless. Can you believe brick and mortar stores still sell saddle shoes? I remember having a pair when I was little, but I haven't seen any in a while. I didn't realize until the night before that I had no socks to wear with them. All my socks are either too short or too long.
Stay tuned next week for whatever I come up with next. Sewing, vintage things, sewing vintage things...you never know. I may even do a post about thrifting! Until then, happy trails!